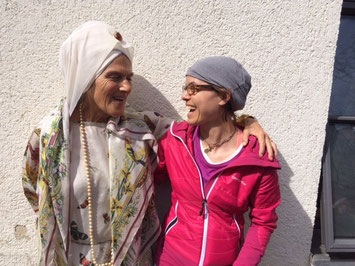 It was an intensive and so blissful easter weekend. As I am already involved so much with Kundalini because I do a yoga therapy training (and I discovered being a doctor does not necessarily imply being a therapist. Just listening without instantly being called to help is weird and new) I constantly look out to make new experiences.
One was online classes with Gloria Latham www.glorialatham.com. She lives Kundalini in a very non- dogmatic and practical yet spiritual way. When I did the classes I always wondered "how does she know exactly what I feel??". So I enrolled for a week of Kundalini on the island of Kythira in Greece. Such a stunning summery laid back and soul nourishing place. The Greek food fed our stomachs as well quite nicely :)
How amazing to sit in morning meditation when the earth starts shaking. It was the first time I sat in meditation for so long and the universe responded. What a coincidence. Or universal sign?
Gloria also told us about her teacher Gurmukh and how relieved she felt doing classes with her. That she lived Kundalini so intense but she also let the present live like playing a Beatles song whilst practicing.
So now I stumbled across this possibility to do Easter intensive workshops with Gurmukh and Gurushabd. First the organizers told me they were fully booked but then 2 spots opened up for me.
As we Europeans still (for whatever reason) change from summer- to wintertime I got up at about 3 am and wondered if I shouldn't use those rare hours of sleep for something else.
Luckily I didn't. While we were chanting and holding our arms up for 11 minutes and all the breath of fire and aching bones and muscles I thought that some years ago I would have laughed about such people. And now I was in the middle of it and enjoying every minute. Well, sometimes I wished the kriya would end but how blissful when it did.
Gurmukh spoke about love and how it is essentially eternal and unconditional. Gurushabd told us about how it's not gonna happen that you sit and meditate and "boom" all of a sudden you're enlightened and it stays that way. You have to work for it constantly and by becoming more and more aware of the presence and the fact that now is all there ever is the happier you become. And when he played the gong for meditation- shiver through my whole body. So relaxing, I normally cannot let go that much.
I'll be honest with you- normally Munich people are very often quite fond of hipster lifestyle, expensive stuff and don't greet easily even before yoga classes.
But during those days sweating and working and chanting together the vibe of oneness was almost tangible.
Working with patients and my own fast monkey mind I know how hard it is to stay still and focus. These kundalini kriyas have the power to occupy your mind enough to find some calm in the midst of the movement. I felt worked out in my body and soul like not often before. I had tears of sorrow and joy in my eyes. I really felt that there is something bigger caring for me.
Once I'm back at work with my fellow doctors I know some will frown upon this. Lots of it is not proven by randomized double-blind studies. But guess what? I don't care anymore. It feels great. I am convinced it can help escpecially people that have issues with addictions. And who does't have them? If it's not drugs or alcohol it's food or emotions or procrastination. We all need to know there's something bigger than ourselves. That the universe will provide as with all we need.
I feel so drawn to the idea of being able to create and hold such as space like the two did for us in Munich.  How wonderful is the idea to travel around the world one day to bring us all together. So why not start slowly with it.
So many people seem to be so old in their minds even at my age. Like all cards were already given and played. But it is all just beginning! Every day again.
So many wonders still to come.
Sat Nam
PS: Next time I will tell you about my experience with Forrest Yoga. Stay tuned!